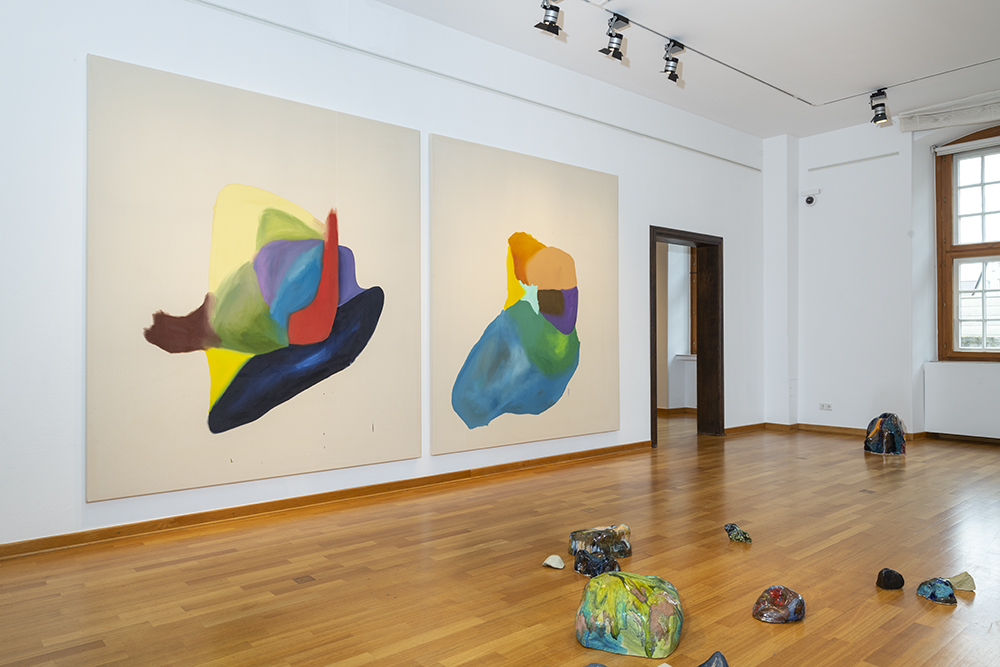 Silfra
Städtische Galerie Eichenmüllerhaus
Lemgo, Germany
14.02.21 – 14.03.21

Introduction: Nele Kaczmarek
Photos: Hannah Jung
Video: Sebastian Herrmann
Silfra, the title of the exhibition, comes from Icelandic and means silver woman. It refers to the topographical area of ​​the Silfra fissure in Iceland and is also the title of a series of paintings from 2020.
About the exhibition
Text: Nele Kaczmarek
Taking note of an event is like a fleeting glimpse, like a fragment of time.
What day is it? Does it matter? This land already exists much longer.
What year is it? Does it matter? This land already exists much longer.
What century is this? Does it matter? This land already exists much longer. How should we imagine the beginning and the end of the story that is about the land and about who we are?

– Yvette Mutumba
At the spot where the European and North American tectonic plates meet, the Silfra Fissure pierces through the Icelandic national park Þingvellir. Surrounded by four active volcanoes, Hrómundartindur, Hengill, Prestahnjúkur, and Hrafnabjörg, the kilometer-long gorge opens up, nourished by clear water bubbling out of the lava rock. The view extends almost 100 meters into the stream, with streaks of green and red-brown shimmering algae. A tourist magnet, but also a mythologically- and historically-laden place, where one of the world's first parliaments met around the year 900. A crack, a gaping wound that grows a few millimeters every year, that 'works' and allows the rock to be understood as a living creature. "Mountains are beings, if you pay attention", Etel Adnan once remarked in relation to her own painting.
As a vital counterpart, mountains, but also fields, moors or lakes regularly find their way into Lena Schmid-Tupou's artistic forms and colors. Her forays and hikes through Iceland, Sweden, Northern Germany, and again and again New Zealand, to which she also has family connections, are like expeditions. There she 'reads' lines, silhouettes and also color tones in order to subsequently – a few seconds or months later – process them in drawings, paintings and sculptures. Over the years, she has developed her very own abstract, artistic vocabulary with affinities to recurring pictorial images that come together to form ever new suggestive landscapes.

In her thinking and in her art, Schmid-Tupou hardly differentiates between inner and outer nature. What is perceived and what is imagined become blurred. Rather, the question is which "shapes and colors resonate in the body" (Schmid-Tupou) and which can follow the lines and color fields previously set in the painting process. Or, as Gaston Bachelard put it in The Poetics of the Room: "Let us resume contact with shorter daydreams that are awakened by the details of things, by traits that seem insignificant at first glance." Schmid-Tupou freely combines different references: The remembered outlines of passing fields shimmer in the paintings, perhaps in the green-blue of cell phone displays. And rays of light flashing from the dense treetops may have taken on the purple and red-brown of two parked cars in their fixation on the painting surface.

As a "place where the power of the earth can be seen directly in its topology, in its protrusions and indentations, as well as in its color tones" (Schmid-Tupou), the Silfra Fissure has also moved Schmid-Tupou to an artistic meditation on temporality. Colored inserts, the so-called olivine, or inclusions from surrounding rock, have found their way into the artist's paintings of the same name as touching or overlapping colored surfaces. In the form of 'materialized and layered time' they relate the centuries-old formation of the rocks, as well as of the moment of their perception and their inscription on the canvas.

Attempts to visualize abstract ideas of time and to preserve memories also shape the new small-format series Memories. Postcards found in the urban space – memorabilia par excellence in themselves – are primed with opaque oil paint and scratched drawings are added with quick strokes. The artist's suggested 'inner landscapes' are thus underlaid on a second level by the now only vaguely perceived motifs on the cards.

The Landmannalaugar area, only a few kilometers away from the Þingvellir National Park, is in turn the starting point for a series of ceramic works that are intended as paintings in space. Fantastic mountain peaks that trustingly meet in almost familiar constellations and claim solitary space for themselves in other places. Their alternating matt and glossy glazes open up new perspectives when you walk around them and, in reflections, incorporate the surroundings as an integral part of the work.

Lena Schmid-Tupou shares her view of a world which is mostly light, but where the unknown and shadowy lurk. A world where we don't know what we are going to find, where we are going to find it, and what the effects of finding something might be.
Nele Kaczmarek is the former curator of Kunstverein Braunschweig in Germany.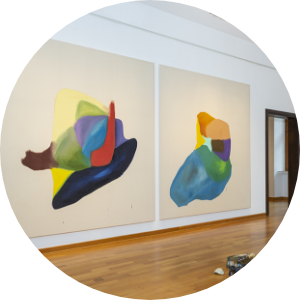 "Strong colors on large-format canvases, next to them smaller prints in black and white and shiny ceramics on the floor – the new exhibition "Silfra" in the Municipal Gallery Eichenmüllerhaus in Lemgo certainly has charisma. Even when, unfortunately, only a virtual tour is possible at the moment."
Freya Köhring,
Lippisches Kultur-Journal