Exhibitions
Lena Schmid-Tupou's work has been exhibited in a host of galleries and art spaces in mainly Germany and New Zealand.
She has shown and continues to show her work both in solo and group settings. Highlights of her exhibitions so far are listed below.
Highlights from previous exhibitions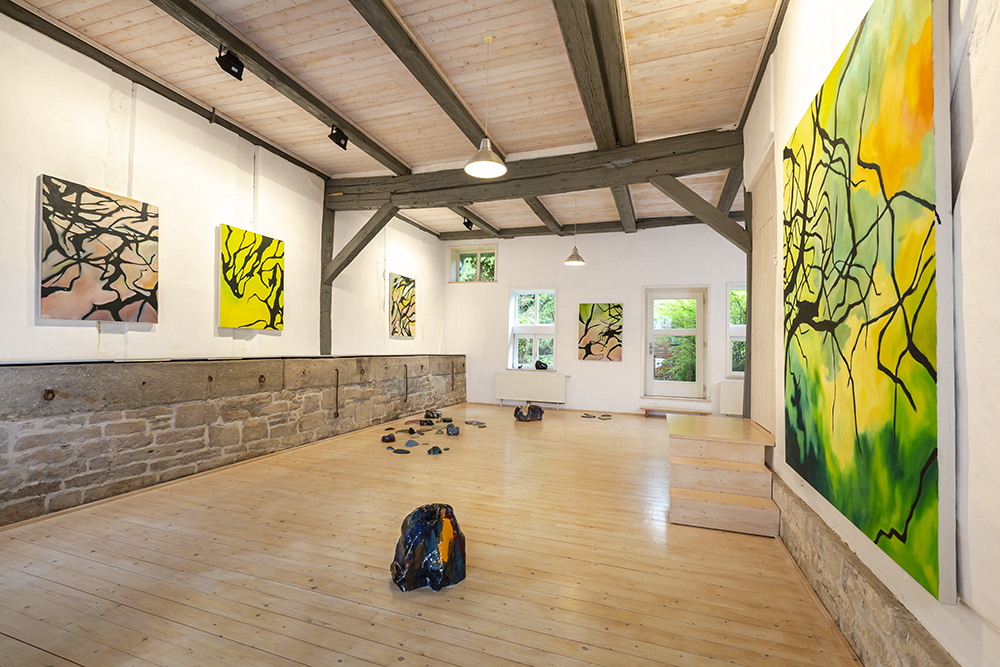 Komorebi
23.04. – 27.08.2023
Kunstraum Walshausen Bad Salzdetfurth, Germany
Translated from Japanese, Komorebi means the light that shines through the trees, in other words dappled light. In her series with the same name, Lena Schmid–Tupou works on the view one can experience through the trees in the winter months. The view is crossed by a tangle of branches. Komorebi takes up the theme of light and line.
The sight of stars makes me dream
19.05. – 04.06.2023
Artist Unlimited
Bielefeld, Germany
New sculptures and paintings that take up an exploration of Schmid-Tupou's group of works "Interfaces" and the publication of the first catalogue showing a selection of works from 2018 to 2021.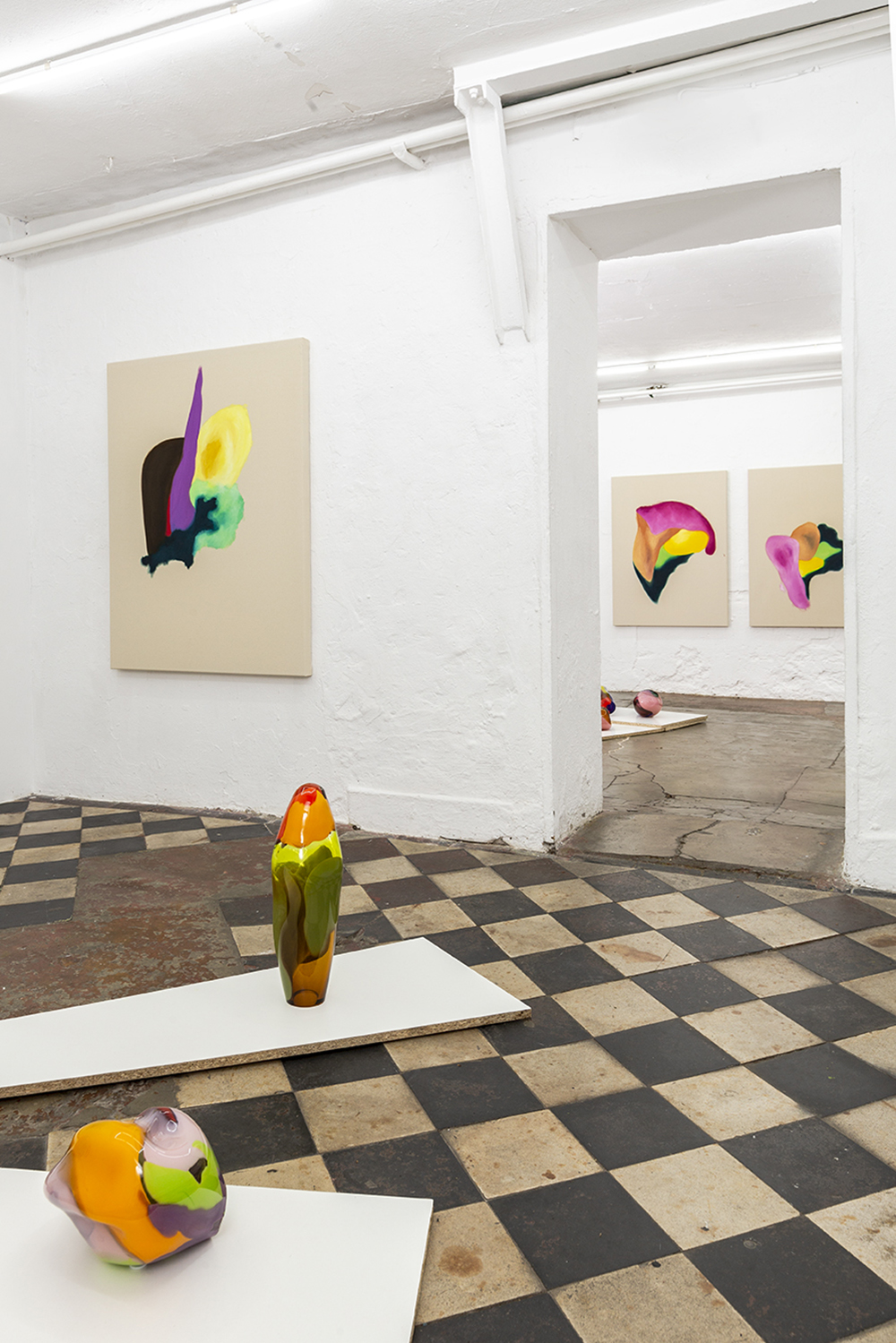 Soft Capsules
03.08. – 29.08.2021
Kunstverein Braunschweig, Germany
With this exhibition, the Kunstverein Braunschweig presented 2021's master students of the Braunschweig University of Art. Lena Schmid-Tupou created blown glass bodies for this exhibition, seeing them as a three-dimensional exploration of painting.
Silfra
14.02. – 14.03.2021
Eichenmüllerhaus
Lemgo, Germany
In her show "Silfra", Lena Schmid-Tupou combines a series of paintings, prints and ceramic sculptures. The exhibition is a look back of the artist's works of the last three years.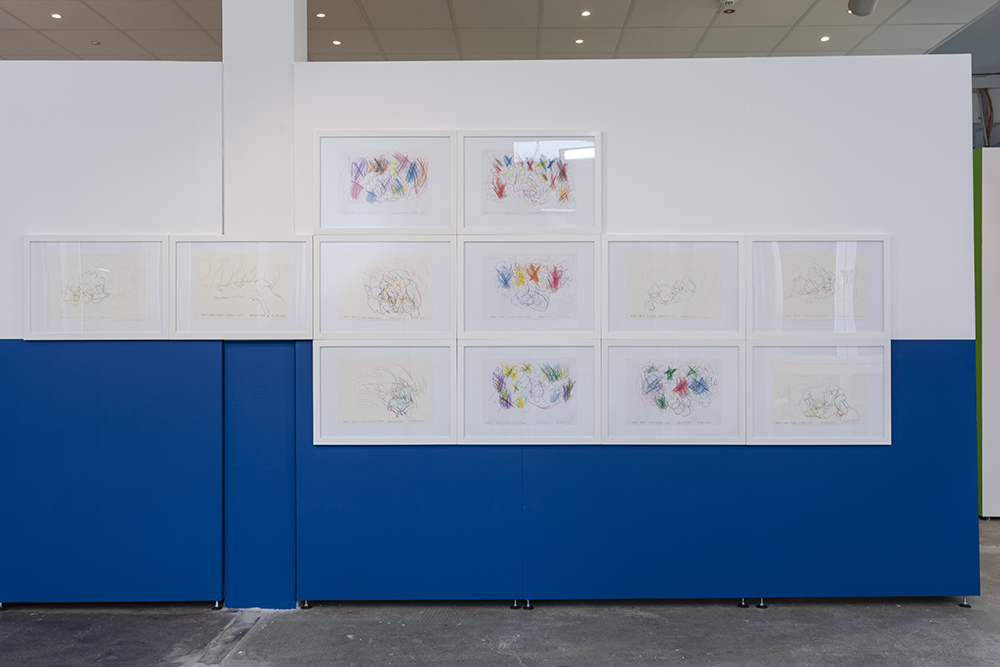 YAKAMOZ with Murat Akay
16.07. – 15.10.2021
Gallery Geyso20
Brunswick, Germany
In their first show together, the two artist created works together that are primarily dedicated to the freely arranged line.
Studio der Welt
14. – 28.09.2020
Montagehalle BHK
Brunswick, Germany
With her diploma presentation "Studio der Welt", Lena Schmid-Tupou presents a series of paintings that, for her, sum up her painting studies at the Braunschweig University of Art.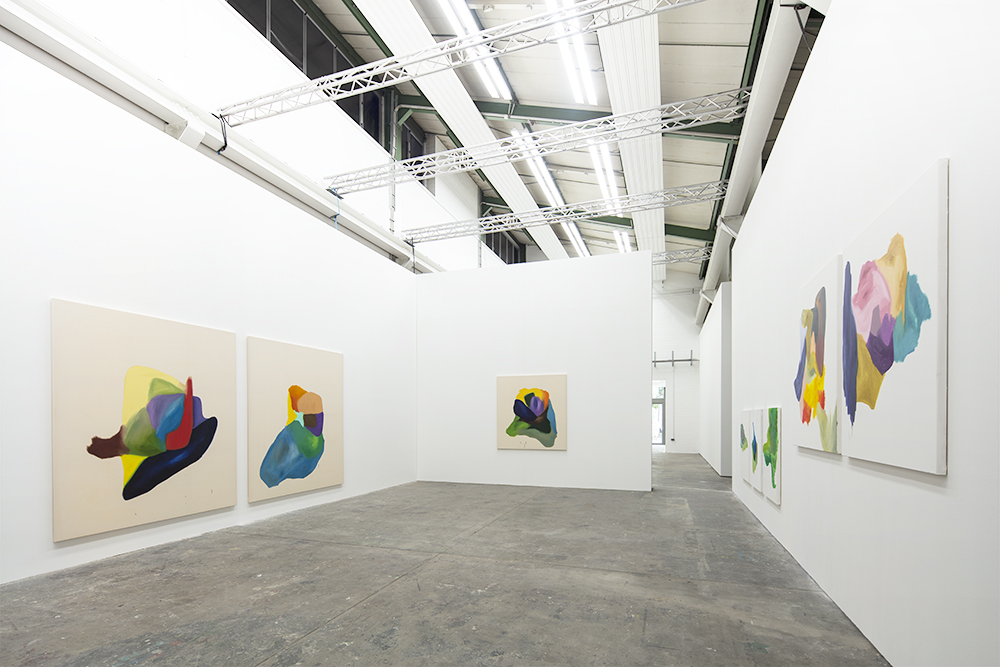 Interfaces
08.12.2018 – 23.02.2019
Papakura Art Gallery
Auckland, New Zealand
For her exhibition Interfaces, Lena Schmid-Tupou has created a new series of oil paintings. In these works, she plays with pattern, form and color. Exploring the landscape her family comes from in southern Germany she is inspired by a recent discovery in the area by archaeologists of the oldest figurative sculpture in the world.
Past
This is not a playground
06 – 07/22 | Group
Galerie PostKultur
Hamburg, Germany
Sestiere di Venezia
09/21 | Group
Ponte della Madoneta da Anna
Venice, Italy
Soft Capsules
08/21 | Group
Kunstverein Braunschweig
Brunswick, Germany
Yakamoz
07 – 10/21 | Solo
Galerie Geyso20
Brunswick, Germany
9 Positionen aktueller Druckgrafik
07 – 08/21 | Group
Verein für Original-Radierung
Munich, Germany
Nichts ist wie immer
04 – 05/21 | Group
Konnektor
Hannover, Germany
Silfra
02 – 03/21 | Solo
Städtische Galerie Eichenmüllerhaus
Lemgo, Germany
Studio der Welt
09/20 | Solo
Hochschule für Bildende Künste Braunschweig
Brunswick, Germany
Interval No. 12
01/20 | Group
Hochschule für Bildende Künste Braunschweig
Brunswick, Germany
ORIKOPI
12/19 | Group
Artothek
Hannover, Germany
Groups
06 – 08/19 | Group
Kunstverein Braunschweig
Brunswick, Germany
Interval No. 11
01/19 | Group
Hochschule für Bildende Künste Braunschweig
Brunswick, Germany
KLUB Up Store
01/19 | Group
Artists Unlimited
Bielefeld, Germany
Interfaces
12/18 – 02/19 | Solo
Papakura Art Gallery
Auckland, New Zealand
Interval No. 10
07/18 | Group
Hochschule für Bildende Künste Braunschweig
Brunswick, Germany
Meine Flüsse und Berge begrüßen dich
04/18 | Solo
Atelierhaus
Lemgo, Germany
Interval No. 09
07/17 | Group
Hochschule für Bildende Künste Braunschweig
Brunswick, Germany
Spektaklo
09 – 10/16 | Group (with the class of O.C. Jenssen)
Kunstverein Meppen
Meppen, Germany
Rundgang
07/16 | Group
Hochschule für Bildende Künste Braunschweig
Brunswick, Germany
Sturmfrei
12/14 | Group (and catalog curation)
Fabrik der Künste
Hamburg, Germany
Kunst in der Börse
11 – 12/14 | Group (in cooperation with Lionsclub Hamburg-Hammaburg)
Handelskammer Hamburg
Hamburg, Germany
AddArt
11/13 | Group
Schipper Company
Hamburg, Germany
ReeperReeper
09/13 | Group
Reeperbahnfestival
Hamburg, Germany
Florian
05/13 | Group
Künstlerhaus Sootbörn
Hamburg, Germany
Return to sender
11/12 | Group
Gallery Gallows
Auckland, New Zealand
SweetSixteen
11 – 12/10 | Solo
Long Black Café
Auckland, New Zealand
Bungalow 6
08 – 09/10 | Group
Gallery 14, Unitec Auckland
Auckland, New Zealand
Mehr
04 – 05/09 | Group
Cap San Diego
Hamburg, Germany