About Lena Schmid-Tupou
Exploring boundaries in painting – again and again.
Lena Schmid-Tupou is a painter, who draws inspiration from and is inspired by nature and the urban environment. For the artist, who lives and works in Germany and Aotearoa New Zealand, painting is much more than brush, paint and canvas: She explores space on paper and canvas as well as in sculptural works. Always looking for an artistic confrontation, Schmid-Tupou explores different techniques such as oil painting, printmaking, drawing, ceramics and glass.
Schmid-Tupou has received several grants, e.g. for her series Lumen, which she exhibited at the Kunstverein Braunschweig in 2021.
She has exhibited in Hamburg, Hanover, Munich, Brunswick, Bielefeld, Lemgo, Meppen and Reutlingen (all GER) as well as Venice (IT), Hamilton and Auckland (both NZ).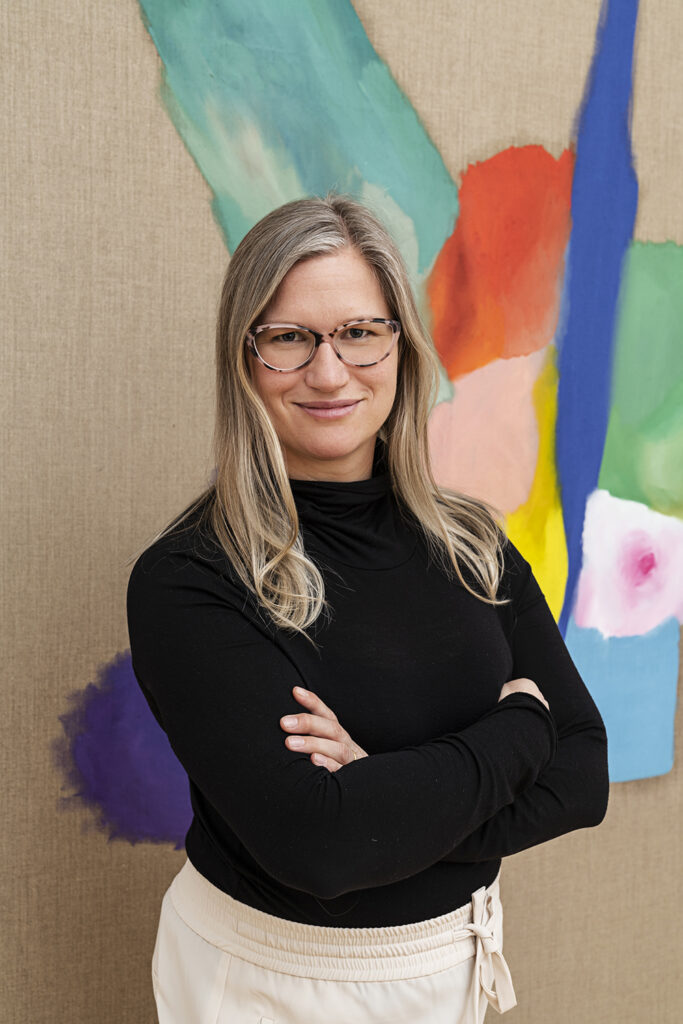 Schmid-Tupou studied at the Braunschweig University of Art under the Norwegian painter Olav Christopher Jenssen, with whom she completed both her diploma and her post graduate studies. At the University of Applied Sciences in Hamburg, she received her Master of Arts under the painter Gabriele Basch and her Bachelor of Illustration under the artist Gesa Lange. In New Zealand, she studied painting and drawing for one year with Richard Fahey and Emma Smith at Unitec in Auckland.
Over the years, she has cooperated and acted in various artist groups such as projektKLUB and Tapir&Klotz. During her studies in Hamburg she was involved in the publication of several issues of the LUKS magazine, which received numerous awards, including the European Design Award (TUR), the Joseph Binder Award (A), the MfG Award (DE) and the Carl H Dietze Prize (DE).
Her works can be found in private collections in Germany, Sweden, Iceland, New Zealand and Australia.
Education
Braunschweig University
of Art
10/2020 – 07/2021
Brunswick, Germany
Post Graduate Degree in Art (Meisterschüler Freie Kunst/Malerei)
Class: Olav Christopher Jenssen
Braunschweig University
of Art
10/2015 – 09/2020
Brunswick, Germany
Master of Art (Diplom Freie Kunst/Malerei)
Class: Olav Christopher Jenssen
Hamburg University
of Applied Sciences
09/2013 – 07/2016
Hamburg, Germany
Master of Art/Illustration
Class: Gabriele Basch, Alexandra Kardinar
Unitec Institute
of Technology
02/2010 – 11/2010
Auckland, New Zealand
Bachelor of Visual Arts/Painting
Class: Richard Fahey, Emma Smith
Hamburg University
of Applied Sciences
03/2007 – 07/2013
Hamburg, Germany
Bachelor of Art/Illustration
Class: Gesa Lange, Reinhardt Schulz–Schaeffer
"Walk See Draw Paint Shape"
Ulrich Krempel on Lena Schmid-Tupou
Lena Schmid-Tupou's art lives from nature as well as from the urban environment she inhabits. Ever since she began working in often far-flung places, her immediate perception of the things in front of and around her has been the primary driving force behind her artistic endeavours. As she walks and wanders about, a multitude of views of objects and elements in the landscape opens up to her. Employing very different strategies, she approaches her subject matter with her artistic media.
When making etchings and drawings, her strategy is a very direct one; in the face of things or landscapes, she works without any visual control, translating what she sees into lines and arrays of strokes without looking down at the sketchpad or etching plate. Her professional knowledge of the process is a prerequisite; an intuition of the format of the support in front of her, confidence in the guiding, the placing and lifting of the pen or stylus are necessary to minimise the risk of error. Place names and dates are added later, seemingly clumsily noted at the spur of the moment, laterally reversed, thus recording the moment of creation.

The paintings are made in the studio; visual experiences in nature, gained while travelling, walking or hiking, form the basis for her work on them. Memory is here the medium that gives rise to the development of lines and forms. The artist speaks of her spontaneity, her intuitive decisions in front of the picture plane when rendering forms, setting colours. Her artistic professionalism is the prerequisite for the realisation of a successful work.

Begun in 2018, her series of works with the descriptive title "Interfaces" encompasses glimpses of mountainous landscapes with intensely coloured surfaces seemingly arise before us. In "Interfaces 7", for example, our combinatorics of sight suggests a view from an elevated position down onto a path (or a course of water) that rises upwards in an arc to the right. The horizon is dominated by two mountain peaks; the mountainous formations in blue-green and brown enclose the pictorial space. However, the illusion of a mountain landscape is broken by means of the flattish forms in pink and olive; we are referred back to the two-dimensional composition with another rising diagonal (in pink) and areas bordered by rising lines. Overall, however, the scene is one illuminated by the bright light of day.

No longer can any of the certainty inherent in a traditional landscape view be found in these works. In "Interfaces 3", composed in darker tones dominated by blue and violet, two elliptoid and kidney-like forms in dark blue confound our desire to see an extended landscape. Are there indications of lakes or rivers there? If so, why then do they not fit into a landscape perspective as we know it from the 19th century?

Lena Schmid-Tupou constructs landscapes of emotion and memory in her pictures, in which objects and compositions develop spontaneously and not under the dictates of perspective. This is evident in the works on "Ngorongoro"(2019) and "Matamata"(2020), a volcano in Tanzania and a small town in New Zealand. In these paintings, the artist abandons the horror vacui that still completely fills the picture field in the "Interfaces". The scenes are now more compact, the compositions clearly conceivable as a part of a larger whole and placed like signets of a pars pro toto in a often still blank white picture plane. The painterly action is condensed in these works, creating a new field of vision. The representations are more concentrated than before, more compact, more physical. The painting style is also now more open. Spatiality is emphasised in glazed passages, light reflections and translucent light. Physicality becomes clearly visible – as in "Ngorongoro 1". The composition suggests three-dimensionality.

This aspect is fully realised in the artist's work in the field of ceramics and finally her glass sculptures. The mountainous shapes of the ceramics with their glazes that often change colour during the firing process seem like a consequential continuation of the concentration procedures employed in the paintings. In this most recent new stage of Lena Schmid-Tupou's work, the blown glass sculptures from the "Lumen" series, light already appears enclosed in the glass bodies. Their coloured corporeality is intensified to the highest degree by the incident light in the presentation. The polychromacity of the bodies quotes that of the paintings in a unique fashion, professionally realised under the conditions of glassblowing, in negative forms designed by the artist. Placed next to each other on a pedestal in the exhibition, these light bodies finally create an imaginary landscape for us with all kinds of views at and through.
Ulrich Krempel is the former director of Sprengel Museum in Hannover.
Grants and scholarships
Kunstfond
05/2022 – 10/2022
Bonn, Germany
Scholarship
Stiftung Kulturwerk
09/2021 – 12/2021
Bonn, Germany
Scholarship
Alfred Töpfer Stiftung
09/2021
Hamburg, Germany
Scholarship
Kulturinstitut Stadt Braunschweig
03/2021 – 07/2021
Brunswick, Germany
Catalog funding
Alexander Tutsek Stiftung
03/2021 – 07/2021
Munich, Germany
Project funding
Stiftung Braunschweiger Land
03/2020 – 09/2021
Brunswick, Germany
Residency grant
Current and upcoming exhibitions
Komorebi
23.04. – 27.08.2023
Kunstraum Walshausen Bad Salzdetfurth, Germany
Translated from Japanese, Komorebi means the light that shines through the trees, in other words dappled light. In her series with the same name, Lena Schmid–Tupou works on the view one can experience through the trees in the winter months. The view is crossed by a tangle of branches. Komorebi takes up the theme of light and line.
The sight of stars makes me dream
19.05. – 04.06.2023
Artist Unlimited
Bielefeld, Germany
New sculptures and paintings that take up an exploration of Schmid-Tupou's group of works "Interfaces" and the publication of the first catalogue showing a selection of works from 2018 to 2021.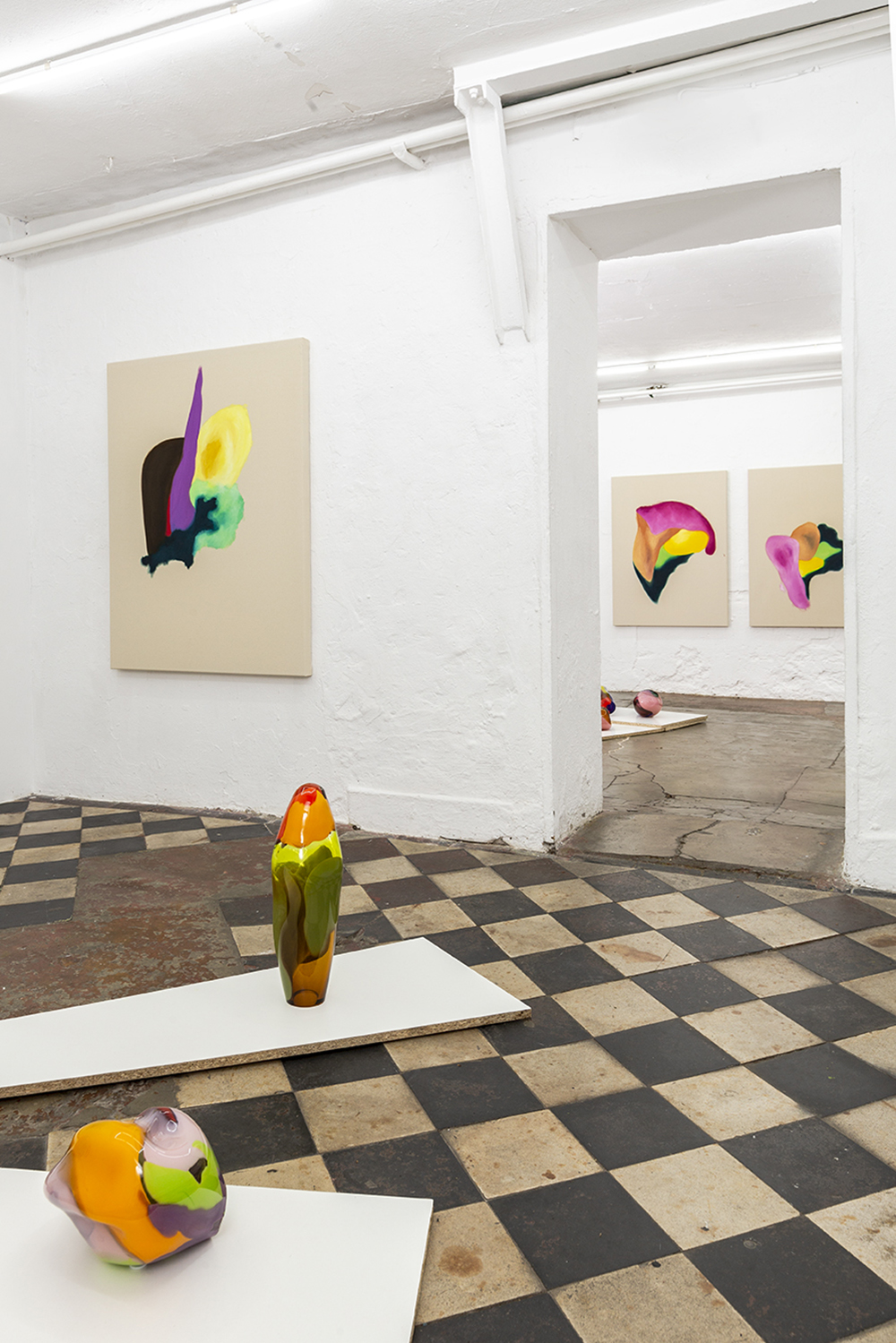 Past exhibitions
The sight of stars makes me dream
05 – 06/23 | Solo
Artists Unlimited
Bielefeld, Germany
Use it or lose it
03/23 | Group
Kunst im Quartier
Hamburg, Germany
Molly Morpeth Canady Award Finalist Exhibition
02 – 03/23 | Group
Whakatane exhibition center
Whakatane, New Zealand
This is not a playground
06 – 07/22 | Group
Galerie PostKultur
Hamburg, Germany
Sestiere di Venezia
09/21 | Group
Ponte della Madoneta da Anna
Venice, Italy
Soft Capsules
08/21 | Group
Kunstverein Braunschweig
Brunswick, Germany
Yakamoz
07 – 10/21 | Solo
Galerie Geyso20
Brunswick, Germany
9 Positionen aktueller Druckgrafik
07 – 08/21 | Group
Verein für Original-Radierung
Munich, Germany
Nichts ist wie immer
04 – 05/21 | Group
Konnektor
Hannover, Germany
Silfra
02 – 03/21 | Solo
Städtische Galerie Eichenmüllerhaus
Lemgo, Germany
Studio der Welt
09/20 | Solo
Hochschule für Bildende Künste Braunschweig
Brunswick, Germany
Interval No. 12
01/20 | Group
Hochschule für Bildende Künste Braunschweig
Brunswick, Germany
ORIKOPI
12/19 | Group
Artothek
Hannover, Germany
Groups
06 – 08/19 | Group
Kunstverein Braunschweig
Brunswick, Germany
Interval No. 11
01/19 | Group
Hochschule für Bildende Künste Braunschweig
Brunswick, Germany
KLUB Up Store
01/19 | Group
Artists Unlimited
Bielefeld, Germany
Interfaces
12/18 – 02/19 | Solo
Papakura Art Gallery
Auckland, New Zealand
Interval No. 10
07/18 | Group
Hochschule für Bildende Künste Braunschweig
Brunswick, Germany
Meine Flüsse und Berge begrüßen dich
04/18 | Solo
Atelierhaus
Lemgo, Germany
Interval No. 09
07/17 | Group
Hochschule für Bildende Künste Braunschweig
Brunswick, Germany
Spektaklo
09 – 10/16 | Group (with the class of O.C. Jenssen)
Kunstverein Meppen
Meppen, Germany
Rundgang
07/16 | Group
Hochschule für Bildende Künste Braunschweig
Brunswick, Germany
Sturmfrei
12/14 | Group (and catalog curation)
Fabrik der Künste
Hamburg, Germany
Kunst in der Börse
11 – 12/14 | Group (in cooperation with Lionsclub Hamburg-Hammaburg)
Handelskammer Hamburg
Hamburg, Germany
AddArt
11/13 | Group
Schipper Company
Hamburg, Germany
ReeperReeper
09/13 | Group
Reeperbahnfestival
Hamburg, Germany
Florian
05/13 | Group
Künstlerhaus Sootbörn
Hamburg, Germany
Return to sender
11/12 | Group
Gallery Gallows
Auckland, New Zealand
SweetSixteen
11 – 12/10 | Solo
Long Black Café
Auckland, New Zealand
Bungalow 6
08 – 09/10 | Group
Gallery 14, Unitec Auckland
Auckland, New Zealand
Mehr
04 – 05/09 | Group
Cap San Diego
Hamburg, Germany